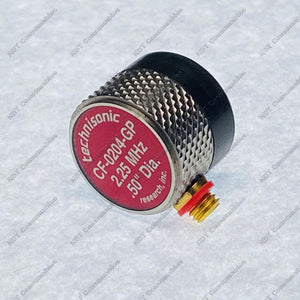 5.0 MHz x .50" Diameter Fingertip Style Contact Transducers
Fingertip Style are small diameter transducers with side-mounted Microdot connectors.

GP (General Purpose) series offer the best combination of sensitivity and resolution for most applications.
HR (High Resolution) series are highly damped for applications where high resolution is required. 
Other Frequencies Diameters, and Dampening (GP, HR, and CMP) are available,
Which are considered to be Special Orders with a 2 to 4 week lead time. Please contact us.
These items can be shipped directly from the manufacturer to provide you with the longest shelf life (consumables) and/or the most current certification (Equipment).

Lead Time: 1 to 2 Days Processing time + shipping time