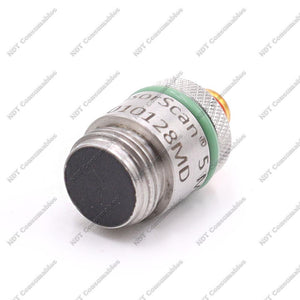 2.25 MHZ x .50" Diameter Quick Swap (quick change) Angle Beam Transducers
Quick Swap (Quick Change) transducers use the same wedges that GE, Technisonic, and many other manufacturers use (NOT Olympus wedges though)
These C series (Piezo-composite) offer superior penetration and signal-to-noise ratio in highly-attenuative and coarse-grain materials.

Angle Beam Transducers and their wedges, generate shear (transverse) waves at the specified angle in a given test material to detect flaws that cannot be detected by a straight-beam transducer.
Typical applications include weld inspection, tube and pipe, shafts, turbine blades, and wheel rims. Shear waves are produced by refracting a longitudinal wave in a precision-machined acrylic wedge that also minimizes wedge noise.

Other Frequencies Diameters, and Dampening (GP and C-Series) are available,
Which are considered to be Special Orders with a 2 to 4 week lead time. Please contact us.

These items can be shipped directly from the manufacturer to provide you with the longest shelf life (consumables) and/or the most current certification (Equipment).

Lead Time: 1 to 2 Days Processing time + shipping time