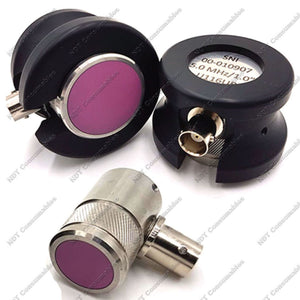 2.25 MHZ x .50" Diameter Contact Transducer, Sensor Networks
Contact Transducers offer a larger element size to provide greater scan widths and
penetration for applications such as plate, billet, bars, thick-section parts,
pipe, and tanks.
They have side-mounted BNC connectors. GP (General Purpose) series offer the best combination of sensitivity and resolution. Sensor Networks Contact transducers come with a removable molded finger/hand grip.
Other Frequencies Diameters, and Dampening (GP and HR) are available,
These items can be shipped directly from the manufacturer to provide you with the longest shelf life (consumables) and / or the most current certification (Equipment).

Lead Time: 1 to 2 Days Processing time + shipping time