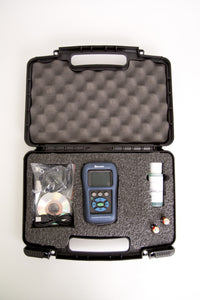 This is one of the Simplest Thickness Guages on the Market
Hand-Held Digital Ultrasonic thickness gage including: Plastic Carrying Case, 2 Oz. bottle of couplant, 2 AA batteries, Instruction manual, and DKS-537 5MHz x .375" diameter Transducer with potted cable.
The EHC 03 Only has 1 transducer selection option, the DKS-537 and is not field upgradeable.
Recommended Accessory: PP 09 Carry Pouch
Other models and varieties are available, Please contact us if interested
 2 Week lead time.
Instrument ships from the Factory with a certificate of conformance.
Stroud Systems will offer to perform a no-charge ASTM E 797 Certification.  The certification is a no-charge item.
This item could be drop shipped from Factory but would come with the manufacturer's certification ONLY.