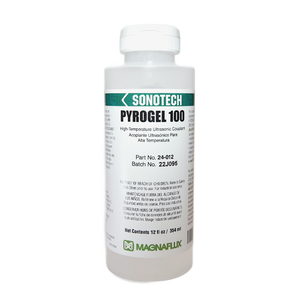 Sonotech, Pyrogel 100 Case (Two 12 oz Tubes)
Pyrogel 100 is also available in Gallon size, but the minimum order is Two Gallons. Which are considered to be Special Order with a 4 week lead time. Please contact us.
Wide Temperature Range Ultrasonic Couplant
Pyrogel® is a broad temperature range couplant for thickness gauging, flow metering, acoustic emissions testing and flaw detection/sizing. These products contain no polymers and resists drying, making them an excellent choice for long term flow metering applications.
Pyrogel 100 which is a thick gel. Pyrogel 100 recommended temperature range is -50 to 805°F / -45 to 429°C.
Benefits
Broadest temperature range
Non-drying for long-term coupling or extended inspection time
Good choice for long-term flow metering
Excellent long-term corrosion inhibition
Pyrogel 100 clings well to vertical and overhead surfaces
Compliance: