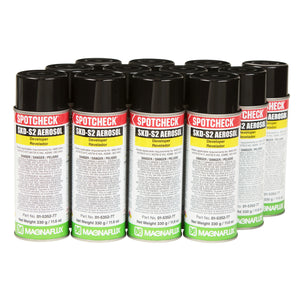 Magnaflux SKD-S2 Developer Case 12 Aerosols
Spotcheck® SKD-S2 is a non-halogenated solvent developer that meets major requirements for special alloy and nuclear applications.
Spotcheck® SKD-S2 is a ready to use suspension of white developing particles in a fast drying solvent. It produces an opaque white coating, which provides an excellent contrasting background for penetrant indications.
Specifications Compliance:
AMS 2644, MIL-STD-271, MIL-STD-2132, AECL, ASME B & PV Code, Section V, Boeing PS-21202, AMS 2647, ASTM E1417, ASTM E165, NAVSEA 250-1500-1, GE P50YP107, ISO 3452-2