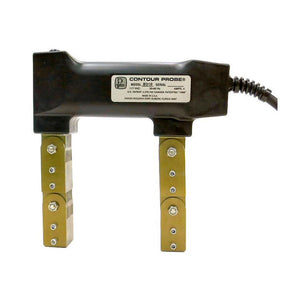 To provide you with the longest shelf life (consumables) and / or the most current certification (Equipment) these items can be shipped directly from the manufacturer.Lead Time: 1 to 2 Days Processing time + shipping time
The B-310 Contour Probe is a lightweight (6 lbs.) Magnetic Inspection Yoke designed to perform magnetic particle inspections quickly and reliably, and with greater versatility. The overall length of the unit is only 7.25".
The B-310 Mini Contour Probe provides great flexibility and reduced size.
TOP CORD ENTRY/REAR CORD ENTRY
The reversible strain-relief feature allows the power cord to enter from the rear or top of the unit permitting greater access to small work areas.
As with all Parker Contour Probes, the B-310 has fully adjustable legs permitting the AC magnetic field to be applied to the precise area of inspection.
Plug any of the Parker AC series Contour Probes (Yokes) into the AC outlet. Follow operating instructions for the individual Probe for correct and normal AC Yoke inspection techniques and requirements.
Special order item: 2 Week Lead Time
B-310 Specifications
Line Voltage Single Phase
115 VAC
50/60 Hz
Line Current
4 A
Duty Cycle
2 minutes on – 2 minutes off
Weight
6 lb (2.73 kg)
Construction
Polyurethane-filled glass/nylon housing
10 foot / 3 wire power cord
Span
0-9 in. across poles