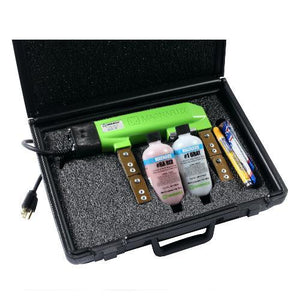 The Y-7 is an AC / DC (115Volt) electromagnetic yoke that is a durable, high-strength AC / DC magnetic yoke designed to detect surface and subsurface indications in the most rugged applications.
Featuring sealed chemical-resistant construction, articulating legs to contour to any part shape, and robust strain-relieved twelve-foot cord for field use, the Y-7 is ideal for inspection of welds and other remote testing.
Solid-state controls allow the operator to use AC magnetic fields for surface indications or DC magnetic fields for subsurface indications to meet all inspection needs.
The Y-7 is also available in the Y-7 MV Kit which comes with a Y-7 yoke, #1 Gray and #8A Red magnetic powders, a paint marker, and hand cleaner towels in a convenient carrying case.
The Mag M Y 7 AC / DC Yoke KIT is considered to be Special Order with a 4 week lead time. Please contact us.