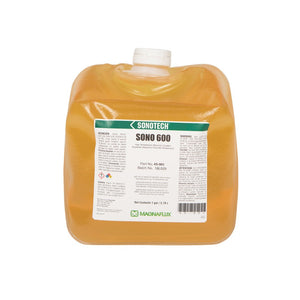 Sonotech, Sono 600
Which is considered to be Special Order 3 to 4 week lead time. Please contact us.
High-Temperature Ultrasonic Couplant

Sono 600 is a versatile, multi-purpose couplant with a wide operating temperature range for flaw detection, thickness gauging and acoustic emission testing in petrochemical, power generation, automotive, aerospace, food processing equipment and pharmaceutical manufacturing.
Recommended temperature range is 0 to 700°F / -18 to 371°C.
Benefits
Economical high-temperature couplant
Excellent corrosion inhibition
Very slow drying for extended inspection time or long-term coupling
Non-toxic, biodegradable formula
Compliance:
Ordering Options:
Case of 6 Tubes
Gallon Pail: Two to four week lead time