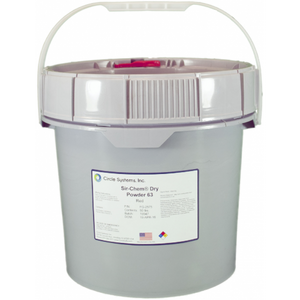 #61 Gray Dry Inspection Powder, 50 Lb pail, Special order.
To provide you with the longest shelf life (consumables) and / or the most current certification (Equipment) these items can be shipped directly from the manufacturer.
Lead Time: 1 to 2 Days Processing time + shipping time

Sir-Chem® Dry Powder 61 is a highly refined nonfluorescent gray magnetic powder used for dry method magnetic particle inspection.
It is designed to be used in visible light to reveal minute discontinuities on fabricated components or weldments such as bridges, pipes, large tanks, machinery and equipment.
Physical Characteristics
Particle Certification
Particles meet all relevant specifications, including but not limited to ASTM E 1444, ASTM E 3024, AMS 3040, MIL-STD-271, NAVSEA 250-1500-1, NTR-1E. Certification is included with each shipment.