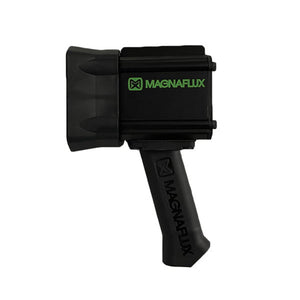 The EV6000 LED UV lamp is a portable, hand-held UV lamp for fluorescent non-destructive testing applications like fluorescent penetrant testing and fluorescent magnetic particle inspections.
The EV6000 features a uniform beam with no hot-spots and a 9 in / 23 cm wide beam, 33% wider than the next widest hand-held UV lamp in the industry.
Custom-designed optics provide intense and even UV-A coverage of UV-A to easily identify indications, and an integrated filter ensures minimal visible light emission to improve inspection reliability. 
The EV6000 is certified to NDT standards for LED UV lamps and certified for Aerospace Prime and OEM specifications for emission spectrum and beam profile. Each unit is shipped with a manufacturer's certificate of conformance which meets or exceeds all current specifications for use with fluorescent liquid penetrant and magnetic particle testing.
NOTE: Handheld UV lamps manufactured with green handles before July 2022 and black handles after July 2022.
Features
5,000 μW/cm2 maximum irradiance at 15 in / 38 cm 
9 in / 23 cm wide, uniform circular beam
Light weight at only 2 lb / 0.9 kg
No hot-spots in the beam profile
IP65 rated, rugged, durable design

No internal fan
Low energy consumption
Aerospace prime and OEM certified
Improved operator and environmental safety
Certified to ASTM / RRES / NADCAP
Note: Two to four week lead time on delivery.